On-Line Registration is open until Friday at 5pm. Get in on the action!!!
Race-day registraiton and # pickup takes place from 8am at the Holiday Valley Mountain Sports Center on Sunday morning. No-one will be turned away to race if you have not pre-registered for this year's Dirty Duathlon & Dirty Bit Trail Run.
Now let's get ready for some serious hills!

Time to get Hardcore Dirty!
Two Events: Dirty Duathlon & Dirty Bit Trail Run 10:00am Start.
Registration from 8:00am at the Holiday Valley Mountain Sports Center
Both separately scored

The 2014 Dirty Duathlon Solo & Tag-Team off-road duathlon and Dirty Bit Trail Run kick off at Holiday Valley Resort in Ellicottville, New York once again this year promising another wild day of racing action on resort trails. Taking place on Labor Day weekend this year we are excited to plan for a rock-solid course vs. the traditional springtime race. A 4.2 mile lap-style course featuring challenging climbs, single track, rock gardens and white-knuckle descents promise one of the most demanding and fun days of competition of the season. The Dirty Du & Dirty Bit are trail and mountain bike races exclusively. There are no gimmicks, man-made features or obstacles-just Mother Earth's trails that will pull every ounce of energy and stamina from today's athlete. Labor-Day weekend this year is filled with nothing but action as athletes compete for awards and prizes in one of the most hard-core events in Western New York in a demanding landscape of beautiful off-road East-Coast style single trail and mountain trails.
This Dirty weekend takes places at the Holiday Valley Mountain Sports Center off Holiday Valley Road. Race-day registration and # pickup takes place from 8:00am at the Holiday Valley Mountian sports Center. T-shirts to the first 250 entrants and as they last on race-day. Race-day rates increase so be sure to pre-register! The trails are open year-round so give it a whirl and enjoy the features of beautiful Ellicottville, the shops and eateries in town, golf and many other attractions. To register for either event click the link above for on-line registration at Runreg or download a

mail-in entry form here

.
Ellicottville is a pleasure to visit any weekend of the year. Filled with shops, eateries, brewery and burritos there's plenty to do for the entire family. Be sure to check out the public pool, golf and other attractions at Holiday Valley and enjoy terrific lodging if you're looking to spend the weekend.


Amazing, Amazing door prizes this year thanks to our terrific sponsors! We are giving away two pair of Salomon sneakers (on-line coupons) and a wide array of Salomon product. Plus some nice swag for 1st place in each age group for our Dirty Du and Dirty Bit competiors from Kenda Tires, Salomon and Montrail. You've got to be there to get in on the action! Thank's amazing sponsors!!!





Dirty Duathlon:

Run/Bike format starts with a 4.2-mile 1-lap trail run. Water station at the top of the mountain. At the transition/start/finish area athletes proceed through the timing area and switch to mountian bikes to complete two similar laps (Run/Bike format). Transition area contains racks where bikes/gear is stored during the race. Helmets mandatory for mountain bikers. 10:00am start. Bikes in the racks for 9:45 pre-race meeting. Pit-area is where teammates await the tag after the run lap or where solo competitors change over to the bikes.


Dirty Bit Trail Run:

A separately scored run-only starts with the Dirty Du athletes and competes on the same 4.2 mile course at 10:00am. Ultra challenging run-only for any trail running enthusiast. Water station at the 1.5-mile mark/top of the mountian.
Both events are chip timed. Chips are collected at the end of each event.



Awards:


Dirty Duathlon
Overall Male/Female and Overall Team
Top 3 teams in Male, Female & Co-Ed categories
Solo: U19, 20-29, 30-39, 40-49, 50+
Dirty Bit Trail Run:
Overall Male, Female & Masters M/F, Super Seniors 60+
Top 3 M/F U19, 20-24, 25-29, 30-34, 35-39, 40-44, 45-49, 50-54, 55-59, 60-64, 65-69, 70+



A wild post-race party, lunch and amazing door prizes round out the race.




Congratulations 2013 class champions:
Dirty Bit 4-Mile Trail Run:
Overall Male John Masiewicz 29:54
Overall Female Amanda Janosky 35:36
Masters Male Jim Figler 30:47
Masters Female Sabrina Baskerville 39:51
Dirty Duathlon:
Overall Male:


Jeff Walker Run: 32:14, Bike 1:21


Overall Team:


Steve White/David Less Run 29:39, Bike 1:22:31


Overall Female


April Depriest Run 36:59, Bike 2:00:04

-The Dirty Duathlon continues to help support HEART Animal Shelter of WNY-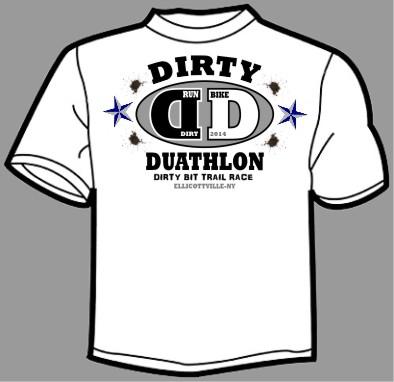 2014 Race Threads!